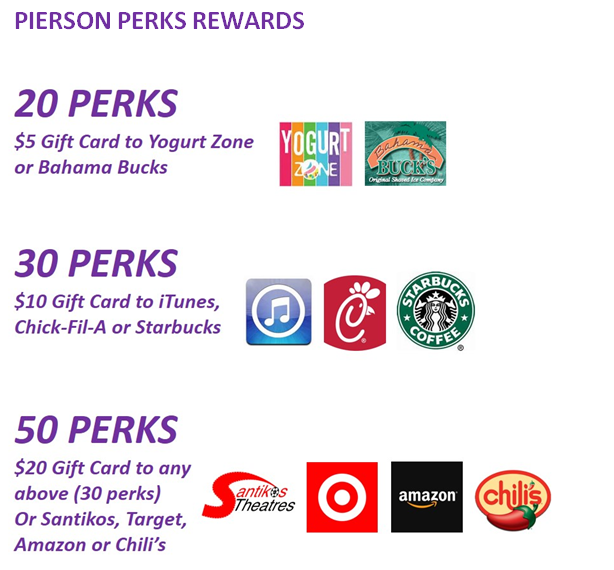 PIERSON PERKS PROGRAM OUTLINE
The purpose of our Pierson Perks Program is for you to take "ownership" in the investment of your orthodontic treatment.  As an incentive for you to have routine dental cleanings with your general dentist and also by you displaying good oral hygiene and being cooperative throughout treatment, we will reward you with Pierson Perks that you may cash in for rewards.
Rules:
Lost Pierson Person are NOT replaceable.
Pierson Perks are NOT available for past visits.
Must be in active treatment (not retainers or observation)
Will only earn Pierson Perks routine appointments. (Perks will not be given for emergency appointments.)
How To Earn Pierson Perks:
Refer a friend! We want to give your friends and family something to smile about too!
E-mail us a video testimonial of your experience with Pierson Orthodontics that we can upload to our Youtube Page. (E-mail to smile@piersonortho.com)
Bring in signed certificate by your general dentist or hygienist from your routine cleaning appointment.  Download the certificate from Pierson Perks Program page on our website.
Get all A's and B's on your report card.
Wear elastics as instructed.
Good oral hygiene – healthy looking gums, no plaque on the teeth, and no food in the braces.
Write a review on our Facebook or Google + Page.
No loose brackets or appliances and no bent or broken wires.
Wear Your Pierson Orthodontics shirt to your appointment.
Arrive for your appointment on time.
"Check-in" on Facebook or Tweet to let your friends and family know you're here.