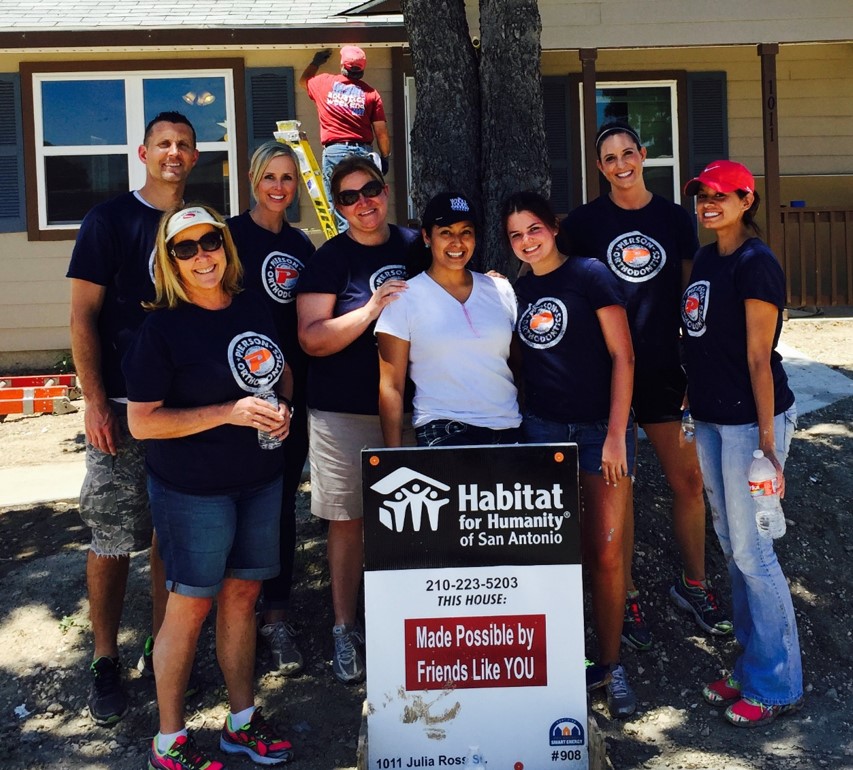 The Pierson Orthodontics team recently had the opportunity to volunteer some time for Habitat for Humanity of San Antonio, a wonderful organization that partners with low-income, hard-working families to help them build affordable houses at no interest and no profit. As Clayton, the project manager, shared with the team, "We are a hand up, not a hand-out."
Habitat for Humanity requires its home recipients to invest at least 300 hours into their home: The first 100 hours are spent as the recipients take classes that teach about finance, budgeting, legal matters, etc. For the second 100 hours, the recipients invest a little sweat equity into another recipient's home. And finally, the third 100 hours are used as the recipients put their sweat equity into their own home.
What an amazing process — becoming self-reliant, serving others and working hard! Now that's something to smile about!
The Pierson Orthodontics team was tasked with touching-up the paint on the exterior of homes and painting sheds to get them ready for their dedications that will take place this Saturday, May 2, 2015. (Watch our YouTube video of our team in action here.)
Six homes will be dedicated to six anxious families who are ready to make their houses into homes.
Habitat for Humanity of San Antonio has built around 900 homes in the San Antonio area and has plans for many more.
The Pierson Orthodontics team members would like to express their heartfelt gratitude to this wonderful organization, Habitat for Humanity, and all those who invest so much time and energy into helping others. Our team is looking forward to volunteering again soon!