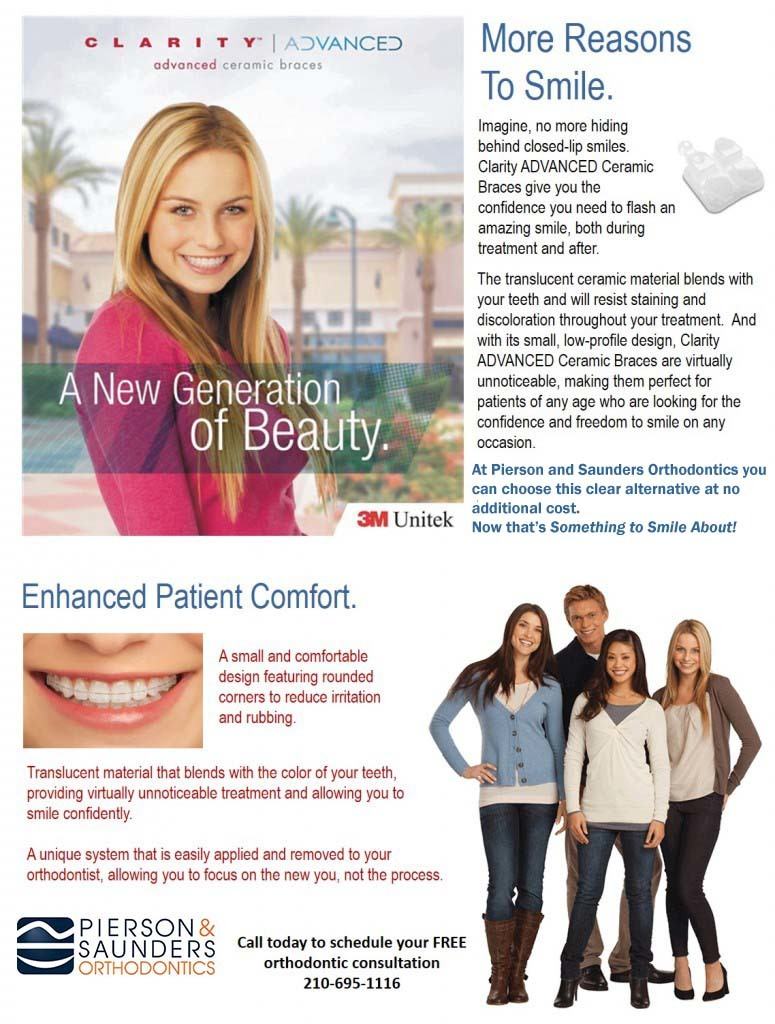 If you have been to the dentist, you have probably heard many of the benefits of having straight and healthy teeth. Teeth that are straight and properly aligned are much easier to clean and maintain. Teeth that are crooked and overcrowded can lead to plaque buildup and cavities, which can in turn lead to tooth loss and gum disease. Clear braces can help correct and straighten teeth, making it much easier to care for your smile.
Dr. Bradley Pierson and Dr. Kristin Saunders can also use clear braces to fix a number of orthodontic problems that might be causing pain. Overbite, underbite and crossbite could be causing excessive stress on your jaw or bones and can lead to headaches, TMJ disorder and neck pain.
We offer braces in San Antonio, Texas, for kids, teens and adults to correct the alignment of the teeth. Clear braces can correct:
Gaps
Crowding
Overbite
Underbite
Crossbite
Misalignment
A straight, symmetrical smile can also give you more confidence and a boost in self-esteem. To learn more about how clear braces can improve your smile, please give us a call and schedule a consultation with our friendly orthodontists. Our orthodontists, Dr. Pierson and Dr. Saunders, and our team at Pierson & Saunders Orthodontics will examine your individual smile and design a treatment plan to best meet your goals.