Invisalign Teen® can help give you a perfect smile using clear aligners so your teenage memories can be captured with confidence. Invisalign Teen aligners are removable and virtually invisible, which allows you to straighten your teeth without anyone else knowing. Because Invisalign aligners are removable, you can still eat and drink what you want. You can also brush and floss normally to maintain healthy gums and teeth.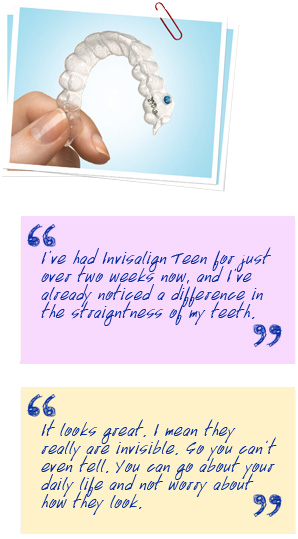 Invisalign Teen has been carefully developed by orthodontists, parents and teens to create an Invisalign system just right for the dental needs of teenagers. Invisalign Teen aligners have a Blue Dot Wear Indicator designed to fade after two weeks of wear that shows how long each aligner has been worn, six free replacement aligners in case any are misplaced or broken, and technical changes designed to accommodate teens' growing mouths. Invisalign Teen is an optimized teeth-straightening system for the busy lifestyles of teens!
What is Invisalign Teen?
System to straighten your teeth without traditional braces
Series of clear, removable, custom-fitted aligners
Custom-made for comfort
How does Invisalign Teen Work?
Wear each set of aligners for about two weeks
Remove only to eat, drink, brush and floss
Your teeth will move gradually each week
Visit us every 8 to 10 weeks
Total treatment time averages 6 to 15 months
Average number of aligners is between 18 and 30
What conditions can Invisalign Teen treat?
Crowded teeth
Spaced teeth
Crossbite
Overbite
Underbite
To learn more about Invisalign Teen in San Antonio, Texas, we invite you to contact us at Pierson & Saunders Orthodontics and schedule your personalized visit with our orthodontists, Dr. Bradley Pierson or Dr. Kristin Saunders. We are eager to help you achieve that perfect smile!